The Fort St. Vrain Eagle Cam




The links to the eagle cams change every time one of them goes offline making it nearly impossible to keep the buttons at left current! If the they don't work for you, click YouTube and the Fort St. Vrain Eaglecams should be close to the top of the page that opens.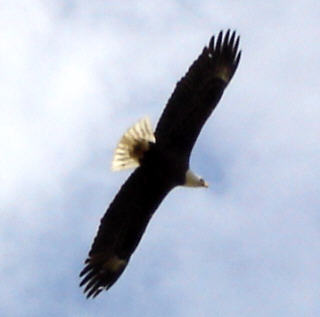 The FSV eaglecam was the first eagle nest camera on the Internet.  It was built in the the late fall of 2003 by Bob Anderson, the founder of the Raptor Resourse Project, and Rob MacIntyre (Bob's friend and electrical engineer) and with the assistance of Jesse Brungardt, Joe Pinner and others from the staff of  the Fort St. Vrain Power Station owned by Xcel Energy.

At last check, the top view camera had sound.  If the birds are not in the nest you can still enjoy the sounds of ducks, birds and tons of frogs that frequent the marshy area below the nest site.  There's sometimes quite a lot of racket!  During summer and fall the links to the cameras may be offline for maintenance.  Also, during cloudy weather the solar powered batteries powering the cameras may not receive enough charge to run them.  If you are having trouble accessing the cams, try clicking HERE for an alternate access path through the Raptor Resource Project website.
The eagles are most active in their nest from early winter to mid February, when the eggs are ususally laid, through June when the eaglets fledge.  The parent birds and eaglets may frequent the nest occasionally throughout the year.

In the summer of 2020 the nest was mostly destroyed when a branch gave way in a wind storm.  However, Bill Heston from the power station and John Howe, the current director of the Raptor Resource Project, made an artificial limb for the tree and rebuilt the nest!  The birds seem completely at home in their reconstructed nest.